Palm Springs Dental
Honest values. Compassionate care. Excellent results.
UnitedHealthcare® Insurance Plans
Palm Springs Dental Accepts the Following UnitedHealthcare® Insurance Plans
In Network Only PPO - INO
HealthPlex PPO Network
National Options PPO 10
National Options PPO 15
National Options PPO 20
National Options PPO 25
National Options PPO 30
PPO National Options Network
Medicare Advantage National Network
If you don't see your insurance plan listed here, please contact us to assist you further. Please note that we currently do not accept Medicaid or HMO plans.
UnitedHealthcare provides access to a broad national provider network designed to deliver on their dental care needs — general and pediatric dentistry, orthodontia, periodontal, endodontic, or oral surgery, as well as 24/7 teledentistry for urgent needs and wellness features and rewards. Their plans are customizable to fit various needs and budgets, allowing individuals to select the coverage that best suits them. Benefits include 100% coverage for preventive care, additional cleanings, and nonsurgical gum treatments during and three months after pregnancy, and integrated health management strategies designed to help your employees return to preventive or periodontal care. Additionally, their user-friendly online tools and resources empower individuals to manage their dental health effectively, with features such as claims submission and access to personalized dental information.
For more information, click here to visit their website.
We Want Your Whole Family to Have a Healthy Smile!
Contact Us Today for Appointment
Flexible Payment Options For High-Quality Dental Care in Altamonte Springs
For your convenience, Palm Springs Dental accepts:
We do NOT accept HMO or Medicaid plans.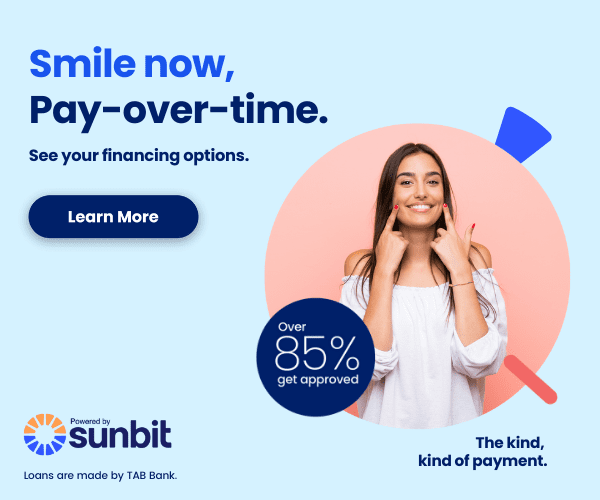 No Insurance? We Have You Covered.
See how simple and affordable better oral health can be!
Adult plans start as low as
Palm Springs Dental
Honest values. Compassionate care. Excellent results.
Palm Springs Dental can meet a wide range of dental needs from family dentistry, cosmetic dentistry, implants, Invisalign®, orthodontic services, oral surgery, periodontal services and endodontic services. Patient comfort and care are our top priority, and we go to great lengths to provide a pleasant environment for you.
We accept a wide range of PPO dental insurance plans, cash, check and all major credit cards. We also offer a low-cost in-house discount plan to save you money on your dental care!
Palm Springs Dental serves Altamonte Springs, Maitland, Casselberry, Longwood, Fern Park, Winter Park, Apopka, Orlando, Oviedo, Sanford, Lake Mary And More!
Palm Springs Dental
499 E Central Parkway #200
Altamonte Springs, FL 32701
Same-Day Appointments
Have a dental concern or emergency? We'll be happy to see you the same day.
Se Habla Español
Hours of Operation
Monday: 8am–5pm
Tuesday: 8am–5pm
Wednesday: 8am–5pm
Thursday: 8am–5pm
Friday: By Appointment Only
Saturday: Closed
Sunday: Closed