Palm Springs Dental
Honest values. Compassionate care. Excellent results.
We'll Have Your Whole Family Smiling.
At Palm Springs Dental, we believe every patient is unique and deserves the highest level of individualized care.
Using innovative procedures and modern techniques, we provide a warm, welcoming, and judgment-free environment for all. We want our gentle touch, pain-free approach to elevate your patient experience and change the way you think about dentistry. It is our honor to care for you and welcome you to your new dental home.
Meet the Doctors
For nearly 25 years, our dentists at Palm Springs Dental have provided our patients with exceptional oral health care. Our passion is perfecting smiles through expertise, compassion and personalized attention. From the moment you step into our office, a warm welcome and a friendly environment puts patient comfort at the top of our priority list. We also value patient communication by listening carefully to your concerns and creating custom treatment plans. At Palm Springs Dental, you're more than a patient, you're part of our family. We put our hearts into serving our patients and are honored you have chosen us to address your unique dental needs.
Dr. Derek S. Stallard, DMD, FIDIA
Dr. Stallard strives to provide high-quality care in a comforting, family-oriented environment.
Dr. Jared Gibby, DMD
Dr. Gibby loves all facets of dentistry and is trained in the most cutting-edge techniques to provide the highest quality of care to his patients.
Dr. Jeff Gannon, DDS
Dr. Gannon is a dedicated and experienced dentist offering tailored dental services in general, restorative, pediatric, and implant dentistry.
Complete Exam, X-Rays, & Cleaning.
(For new patients without insurance. In absence of gum disease. Included procedure codes D1110, D0150, D0274)
Includes a Limited Exam and X-Ray
(For new patients without insurance. X-Rays Non-Transferable. Included procedure codes: D0140, D0220)
Dental Implant Consultation
$500 Value. Some restrictions apply.
(CT Scans and X-Rays non-transferable.)
We got you covered!
Palm Springs Dental understands the importance of having access to quality dental care, so we accept a large number of PPO insurance plans to meet your needs.
If you don't see your insurance, please contact us to assist you further. Please note that we currently do not accept Medicaid or HMO plans.
We Want Your Whole Family to Have a Healthy Smile!
Contact Us Today for Appointment
Palm Springs Dental Patient Testimonials
Dr. Stallard, Dr. Gibby, and the staff at Palm Springs Dental are passionate about perfecting our patients' smiles. We invite you to read some of our glowing patient testimonials.
Your feedback is important to us and used to continue delivering the highest quality dental experience.
We Want Your Whole Family to Have a Healthy Smile!
Contact Us Today for Appointment
We Want Your Whole Family to Have a Healthy Smile!
Contact Us Today for Appointment
Flexible Payment Options For High-Quality Dental Care in Altamonte Springs
For your convenience, Palm Springs Dental accepts:
We do NOT accept HMO or Medicaid plans.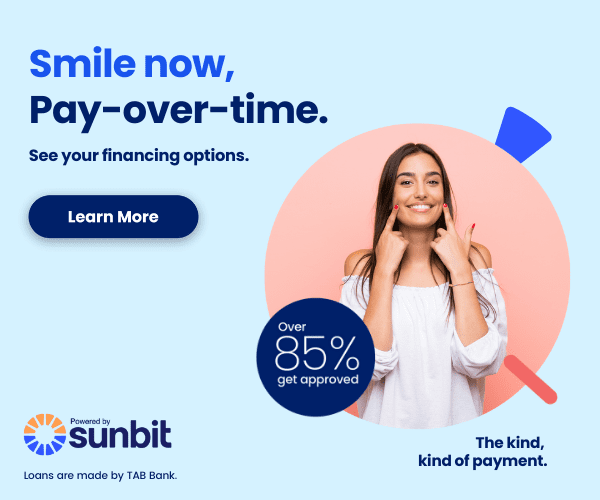 No Insurance? We Have You Covered.
See how simple and affordable better oral health can be!
Adult plans start as low as
Palm Springs Dental
Honest values. Compassionate care. Excellent results.
Palm Springs Dental can meet a wide range of dental needs from family dentistry, cosmetic dentistry, implants, Invisalign®, orthodontic services, oral surgery, periodontal services and endodontic services. Patient comfort and care are our top priority, and we go to great lengths to provide a pleasant environment for you.
We accept a wide range of PPO dental insurance plans, cash, check and all major credit cards. We also offer a low-cost in-house discount plan to save you money on your dental care!
Palm Springs Dental serves Altamonte Springs, Maitland, Casselberry, Longwood, Fern Park, Winter Park, Apopka, Orlando, Oviedo, Sanford, Lake Mary And More!
Palm Springs Dental
499 E Central Parkway #200
Altamonte Springs, FL 32701
Same-Day Appointments
Have a dental concern or emergency? We'll be happy to see you the same day.
Se Habla Español
Hours of Operation
Monday: 8am–5pm
Tuesday: 8am–5pm
Wednesday: 8am–5pm
Thursday: 8am–5pm
Friday: By Appointment Only
Saturday: Closed
Sunday: Closed