Palm Springs Dental
Honest values. Compassionate care. Excellent results.
Get Fast Pain Relief for Teeth Clenching, Grinding, and TMJ Disorders with BOTOX® and XEOMIN® Treatment
The temporomandibular joint (TMJ) is a sliding hinge-like joint connecting your jawbone to your skull, allowing you to talk, chew, and yawn.
TMJ disorders can cause pain in your jaw joint and in the surrounding muscles that may interfere with your daily life.
Treatment options have been limited in the past, but now, muscle relaxing injections can offer quick and efficient relief.
If you're suffering from any of the following, we are here to help:
Tenderness, pain, or swelling in the jaw joint
Headaches
Pain through the neck and shoulders
Feeling pain or exhaustion within your facial muscles
Swelling on either side of the face
Dizziness
Pain around or in either ear
Discomfort or pain when chewing
An uncomfortable bite
Toothaches
Difficulty opening or closing your mouth, known as locked jaw
Grating or clicking sounds when you open and close your mouth
We Want Your Whole Family to Have a Healthy Smile!
Contact Us Today for Appointment
Treating Your TMJ Pain Quickly and Effectively with Nonsurgical BOTOX ® and XEOMIN ® Injections
Palm Springs Dental uses BOTOX® and XEOMIN® injections to reduce or eliminate your pain, headaches, and jaw discomfort in as little as one visit.
What is the Procedure Like?
BOTOX® and XEOMIN® treatments for TMJ disorder are quick, non-surgical procedures. Each session takes about 10-15 minutes and involves 1-2 injections per side.
BOTOX® or XEOMIN® will be injected into your jaw muscles, forehead, or temples and will feel like a quick prick. BOTOX® and Xeomin® injections work by blocking some of the chemical signals sent by the nerves that cause muscles to contract. When the muscle is relaxed, your pain dissipates.
Minimal bruising is a possibility, although most patients won't notice any after-effects. You can reduce your risk of bruising by avoiding ibuprofen and aspirin before your treatment. Wait at least 4 hours to massage your face or exercise after treatment.
Results can take up to 2 weeks to reach full effect. The treatment can last from 3 to 5 months, depending on the individual.
Benefits of BOTOX® and XEOMIN® for TMJ
We Want Your Whole Family to Have a Healthy Smile!
Contact Us Today for Appointment
Flexible Payment Options For High-Quality Dental Care in Altamonte Springs
For your convenience, Palm Springs Dental accepts:
We do NOT accept HMO or Medicaid plans.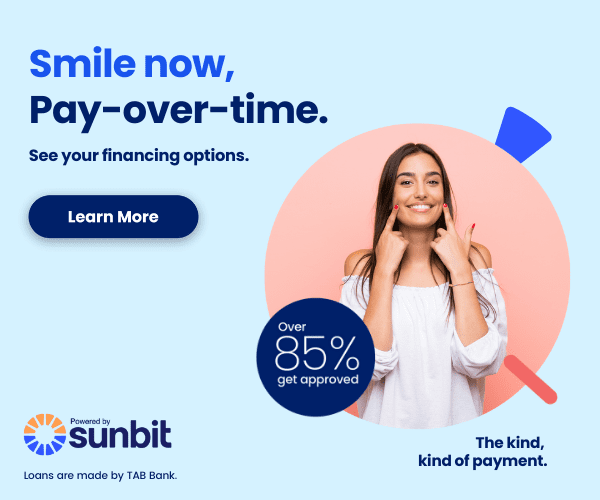 No Insurance? We Have You Covered.
See how simple and affordable better oral health can be!
Adult plans start as low as
Palm Springs Dental
Honest values. Compassionate care. Excellent results.
Palm Springs Dental can meet a wide range of dental needs from family dentistry, cosmetic dentistry, implants, Invisalign®, orthodontic services, oral surgery, periodontal services and endodontic services. Patient comfort and care are our top priority, and we go to great lengths to provide a pleasant environment for you.
We accept a wide range of PPO dental insurance plans, cash, check and all major credit cards. We also offer a low-cost in-house discount plan to save you money on your dental care!
Palm Springs Dental serves Altamonte Springs, Maitland, Casselberry, Longwood, Fern Park, Winter Park, Apopka, Orlando, Oviedo, Sanford, Lake Mary And More!
Palm Springs Dental
499 E Central Parkway #200
Altamonte Springs, FL 32701
Same-Day Appointments
Have a dental concern or emergency? We'll be happy to see you the same day.
Se Habla Español
Hours of Operation
Monday: 8am–5pm
Tuesday: 8am–5pm
Wednesday: 8am–5pm
Thursday: 8am–5pm
Friday: By Appointment Only
Saturday: Closed
Sunday: Closed